What Sets Media Agencies Apart in Marketing?
Many people confuse the roles and functions of a digital agency and a media buying agency. Although both operate within the marketing and advertising industry, there are clear cut differences between the two.
Digital Marketing Agency
A Digital agency primarily focuses on the digital realm of marketing and advertising. This encompasses tasks such as developing online marketing strategies, conducting social media campaigns, search engine optimisation (SEO), content marketing, email marketing, and more. The principal goal of a digital agency is to assist businesses in establishing their online presence and effectively reaching their target audience through digital channels.
Media Agency / Advertising Agency
A Media agency specialises in media planning and purchasing of ad spaces across digital channels as well as various mediums like print, television, radio, and outdoor billboards. Their primary objective is to negotiate optimal ad placements and rates for their clients, ensuring maximum visibility, reaching the target market, and achieving a return on investment for their ad expenditure. Media buying agencies benefit from established relationships with various media outlets, enabling them to secure prime ad spaces and placements at rates below the market average.
The media buying process involves formulating a media buying plan and developing a media strategy to effectively engage the target audience.
Most independent media agencies, such as TFM Digital, are also part of organisations that help regulate the industry to ensure that agencies are always improving on their media buyer capabilities.
Such organisations include:
IMAA – Independent Media Agencies Australia
BAA – Brisbane Advertising Association
MFA – Media Federation Australia
What is the best platform for my marketing campaign then?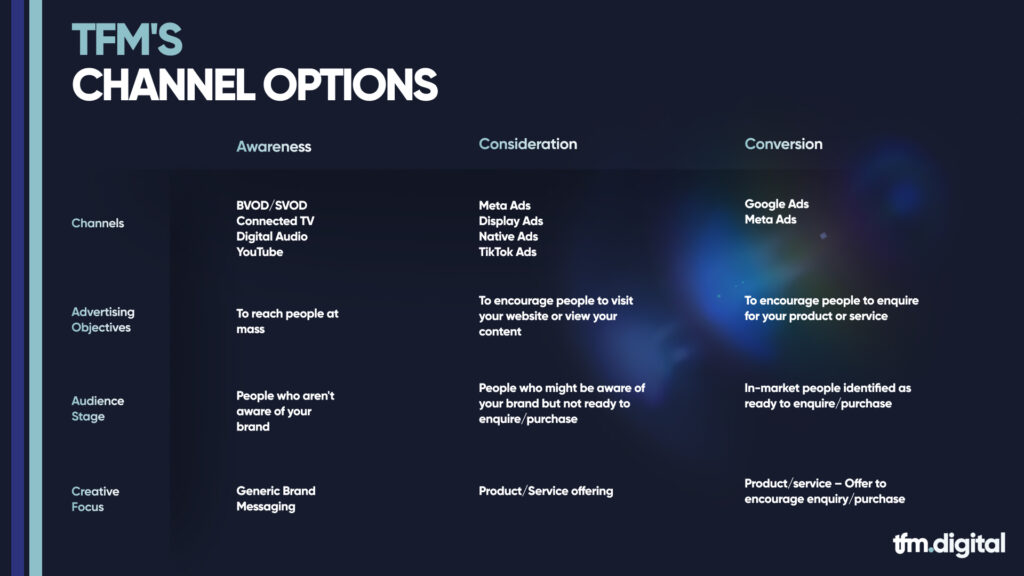 Awareness
Advertising Objective: To reach people at mass
Audience Stage: People who aren't aware of your brand
Creative Focus: Generic Brand Massaging
What Platforms?
BVOD/ SVOD
2. Connected TV
3. Digital Audio
4. Youtube
Consideration
Advertising Objective: To encourage people to visit your website or view your content
Audience Stage: People who might be aware of your brand but not ready to enquire/ purchase
Creative Focus: Product/ Service offering
What Platforms?
Meta Ads (Facebook & Instagram)
Display Ads (Websites)
Native Ads
TikTok Ads
Conversion
Advertising Objective: To encourage people to enquire about your product or service
Audience Stage: In-market people identified as ready to enquire/ purchase
Creative Focus: Product/ Service – Offer to encourage enquiry/ purchase
What Platforms?
Google Ads
Meta Ads
How do we create a media plan using all of these?
The best way we can show you how, is to show you an example. TFM conducted a case study on one of our clients who has been leveraging our services for the last three years. It was the first time this particular client was approached to take advantage of our omnichannel media buying. Here's how we did it:
The Challenge
A multi-site owner of City Cave had opened up new centres in a market where the franchise had little to no brand awareness. The standard means of advertising were Google and Social Media (Meta – Facebook & Instagram).
The problem that was faced was the retargeting audience cost per acquisition (CPA) was much higher due to the frequency (how many ads are shown to someone to get a purchase) being double compared to centres in established markets.
There were also updates with Meta in regards to targeting income range, credit score, household income among specific behaviours and interests that are aligned with City Cave customers.
The Approach
We needed to reach new audiences and deliver on an OMNI channel approach as we believed building frequency in different channels would deliver an overall increase in bookings across all centres.
We proposed programmatic channels that deliver greater reach at a lower CPM. We decided on Display & YouTube ads. We overlaid the geos and targeted in-market audiences with a propensity for City Caves services.
We did not use an additional budget, we relocated from other channels.
The Results:
After 55 days of running programmatic channels with the same existing budget, we were able to reduce the cost per acquisition by 38% on average. (1st of June – 25th of July compared to the previous period, Meta & Google only campaigns.)
This resulted in our Franchisees achieving additional bookings with no additional media investment.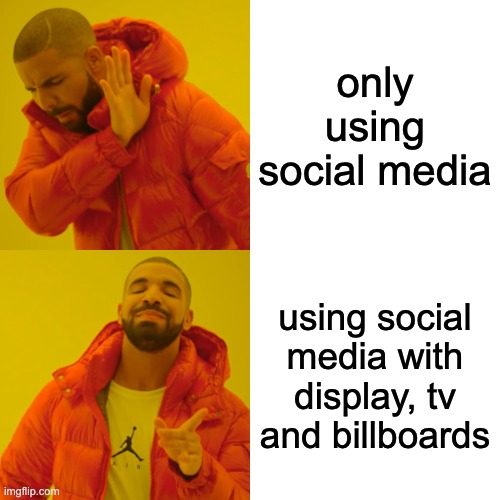 While Digital Agencies are confined to the digital landscape, a media buying agency deals with both traditional and online advertising channels, allowing them to leverage the benefits of all mediums.
The main distinction between a digital agency and a media agency lies in their areas of specialisation. Digital agencies concentrate on online marketing strategies, website development, and digital channels, whereas media buying agencies specialise in media planning and purchasing across various traditional and digital platforms. The media buying team focuses on media planning, the target audience, ad space, and the media buying process.